From kombucha brews, bubbled a new business concept.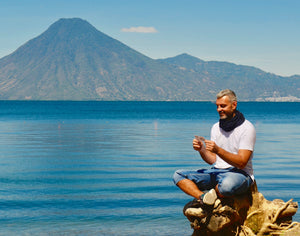 Marco Barbi left a successful business in Spain in 2008 because it was not in harmony with his newly discovered spiritual journey. He wanted to align his newfound values with his professional life and to give back to the community in a positive way. After moving to Guatemala, he had that opportunity.

He started brewing Kombucha at home for his family. Soon he had enough to share with his friends. With their positive reception and encouragement, he decided to develop the recipes and packaging in order produce kombucha commercially in 2014. As its popularity grew in Antigua Guatemala, Marco expanded to Guatemala City, hiring two people and securing all the licenses and product registrations he needed to expand Yogi Super Foods' catalogue.
It was at this time, that Marco realizeD it wasn't enough to just offer superfood. He wanted to do more for his customers, so he decided to add motivational messages to the packaging.
This was the birth of The Happy Soul Project, which has grown since then to include books, videos, podcasts, meditations, and courses. In November 2016, Yogi Super Foods won the prestigious Guatemalan National Award for Social Entrepreneurship (Premio Nacional Al Emprendimiento Social) for our valuable contribution of healthy foods that better the general physical health and mental wellbeing of people in Guatemala. Today, Yogi Super Foods is sold in all the major supermarkets in Guatemala and is available for purchase internationally as well.