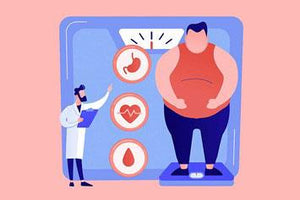 Obesity - How to reduce it
Obesity is a complex disease that consists of having an excessive amount of body fat. Obesity is not just an aesthetic problem. It is a medical problem that increases the risk of diseases and health problems, such as heart disease, diabetes, high blood pressure, and certain types of cancer.
Obesity occurs over time, when you eat more calories than you burn. The balance between calorie intake and calories lost is different for each person. Factors that can affect your weight include genetic makeup, overeating, eating high-fat foods, and lack of physical activity.
What causes overweight and obesity?
The root cause of obesity is an energy imbalance between calories consumed and calories expended. The following has happened worldwide:
An increased intake of high-calorie foods that are high in fat; and
A decline in physical activity due to the increasingly sedentary nature of many forms of work, new modes of transportation, and increasing urbanization.
Changes in eating habits and physical activity are often a consequence of environmental and social changes associated with development and the lack of supportive policies in sectors such as health; the Agriculture; transport; urban planning; environment; food processing, distribution and marketing, and education.
How can overweight and obesity be reduced?
Overweight and obesity, as well as related noncommunicable diseases, are largely preventable. Enabling environments and communities are essential to influence people's choices so that the easiest option (the most accessible, available and affordable) is the healthiest in terms of food and regular physical activity, and therefore prevent overweight and obesity.
At the individual level, people can choose to:
Limit energy intake from the amount of total fat and sugars;
Increase the consumption of fruits and vegetables, as well as legumes, whole grains and nuts; and engage in regular physical activity (60 minutes per day for youth and 150 minutes per week for adults).
Individual responsibility can only have its full effect if people have access to a healthy way of life. On a societal level, therefore, it is important to help people follow the above recommendations, through sustained implementation of evidence-based and demographic policies that make regular physical activity and healthier food choices available and affordable. and easily accessible to all, particularly the poorest people. An example of such a policy is a tax on sugary drinks.
The food industry can play an important role in promoting healthy diets by:
Reducing the fat, sugar and salt content of processed foods; ensuring that healthy and nutritious options are available and affordable for all consumers;
Limiting the marketing of foods rich in sugar, salt and fat, especially foods intended for children and adolescents; and ensuring the availability of healthy food options and supporting the practice of regular physical activity in the workplace.
HEALTHY EATING FOR OBESITY
Regularly consuming excess calories, relative to energy expenditure, contributes to weight gain. However, there are other factors that can also influence, such as meal times and the type of food in the diet.
To maintain a healthy weight, it is recommended to incorporate 4 meals a day, ideally distributed every 4 hours and avoiding long periods of fasting.
When times between meals exceed 5 hours, it is advisable to consume a snack, which should provide a small amount of energy. They can consist of fruits, low-fat dairy, vegetables or nuts, among others.
It is key that most of the energy ingested during the day is consumed at times of increased energy expenditure (breakfast and lunch) and not just before bedtime.
As for food selection, there are also some suggestions. Vegetables are high-water, low-fat foods, so they are low in calories. In addition, they contain dietary fiber, a component that delays the emptying of the stomach, producing a feeling of satiety more prolonged. On the other hand, dietary fiber improves intestinal transit and is able to "drag" part of the dietary cholesterol and some harmful substances through the digestive tract. Other foods that contain dietary fiber and therefore share these benefits are: whole grains, fruits, and legumes.
It is also important to ensure an adequate intake of high-quality protein, which has various functions and has also been shown to help control appetite. They are mainly found in meat, fish, eggs and dairy products.
To maintain optimal weight, low-fat meats and dairy products should be preferred, and it is suggested that fish and legumes be incorporated twice a week, both in place of meat. Combining legumes with grains, such as rice or noodles (preferably whole grain), improves protein quality.
 IMPORTANCE OF CHIA IN OBESITY
Metabolic health is referring to cholesterol, triglycerides, obesity. Chia seeds, being rich in fiber, protein and Omega-3 fatty acids, will help you help not only reduce all these values, but also prevent suffering from heart disease and type 2 diabetes.
On the other hand, its high fiber content favors intestinal health and combats constipation, but with a nuance: it must be accompanied by liquids, it favors satiety and lowers the glycemic index.
Its fast-digesting protein content also provides the 9 essential amino acids, while its high soluble fiber content accelerates and prolongs satiety, reducing cravings between meals and improving the digestive tract, thus stimulating the metabolic rate throughout the day. Obviously, its low glycemic index makes it an ideal food for diabetics, as it allows for more acceptable control of sugar levels.
Thanks to the antioxidants, the immune system is improved, after eliminating the toxins that the body absorbs daily, and in addition, this is one of the properties that allows it to stay fresh and edible, even for up to 4 years, before the taste, smell or nutritional value begins to deteriorate.
On the other hand, chia seeds, which are rich in essential fatty acids Omega 3, and which are classified within the good fats, favor the cardiovascular and circulatory system, by keeping the limits of cholesterol in the blood at bay. . It has been shown that they contain a higher level of Omega 3, far surpassing flax seeds or salmon.