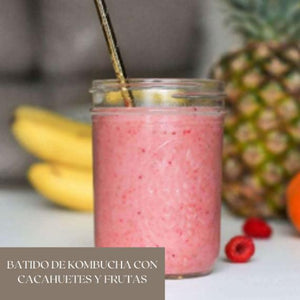 Kombucha Smoothie with Peanuts and Fruits
Kombucha it is an amazing drink for its good property. Because of its acid test not everyone loves it. It is a good idea to add it in a blender with other ingredients in order to change the test and enjoy its many benefit.

Ingredients:
• 1 glass Kombucha tea
• 6 redberries units
• 1 piece peach chopped
• 1 banana
• One tablespoon peanut

Procedure.
• Beat all the ingredients in a
blender.
• Serve the smoothie with ice cubes.
Share with family and friends.
INVST IN YOUR  HEALTH !!
INVEST IN YOURSELF !!