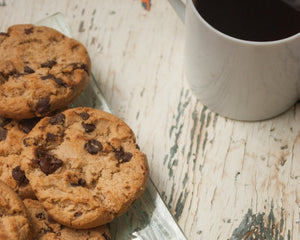 Gluten-free and dairy-free chocolate chip vegan cookies
By: Fernanda Berganza
If you have a sweet tooth or enjoy something sweet after lunch or with your favorite tea or coffee, this is the recipe for you.
Ingredients:
1 cup of our delicious and natural almond butter

1/3 cup of agave syrup

1 teaspoon of vanilla extract

1 cup of almond flour

1 pinch of salt

1/4 teaspoon of baking soda

1/4 cup of dark chocolate chips

1/2 teaspoon of cinammon or pumpkin spice
Preparation: 
Preheat the oven to 350 ºF or 200 ºC.

Mix all the ingredients.

From cookies and set them over a baking sheet.

Bake them for 10 minutes or until ready.
Now you can enjoy a gluten- and dairy-free, delicious dessert that will not spike your blood sugar levels due to its fiber and healthy fat content.