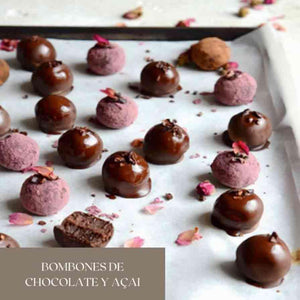 Gluten Free Dark Chocolate Acai Bonbons
Delicious, gluten free, chocolate acai bonbons. They're easy to make and perfect to share.

Ingredients:
• 100 ml of honey
• 10g. acai powder
• A pinch of ginger powder
• 120g. cocoa butter
• 60g. pure cocoa powder
• 10g. matcha tea powder
• A pinch of Himalayan salt

Instructions:
• Melt the cocoa butter in a bain-marie.
• Mix the cocoa powder, açai, matcha tea, and ginger in a bowl and sift through a strainer.
• Add the sieved powder, little by little, to the melted cocoa butter.
• Add the agave syrup and salt to the mixture and stir until well mixed.
• Place the mixture into chocolate molds and leave to cool.
• Put the molds in the fridge.
Share with family and friends.
INVEST IN YOUR HEALTH!!
INVEST IN YOURSELF!!