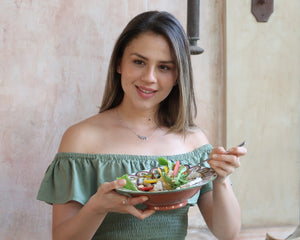 Balance Goddess Bowl
Author: Fernanda Berganza
Nowadays, you may have heard about hormonal balance and its importance for energy levels, skin, emotional balance, and weight loss.
Hormones control cell activity, blood sugar levels, sleep, reactions to stimuli, fertility, hunger, digestion, blood pressure, energy levels, and more. Hormone synthesis and balance are related to the fuel we provide our body: food, movement, rest, stress levels, genetics, age, sex, and life stage. The majority of these factors can be controlled by lifestyle and day-to-day choices.
This recipe contains all the elements that, through food, promote hormonal balance.
Balanced sweet potato bowl for lunch or dinner
Serving: 1
Preparation time: 18 minutes
Ingredients for Sweet Potato:
1/2 cup cubed sweet potato

1 teaspoon olive oil

1/2 teaspoon paprika

salt and pepper
For the salad: 
1 cup lettuce leaves, washed, shredded, and cut with your hands

1/2 cup pre-cooked whole grain quinoa from Yogi Super Foods or rice

2 tablespoons of corn kernels

1 teaspoon finely chopped red onion

1 cucumber, chopped into small cubes with seeds removed

½ cup shredded chicken
For the dressing: 
1 cup of apple cider vinegar from Yogi Super Foods

1/2 teaspoon garlic powder

1 teaspoon lemon juice

salt and pepper
Toppings: 
1 teaspoon pumpkin seeds

1/4 of guacate cut into cubes
 Preparation: 
Combine the ingredients for the sweet potato and place on a baking sheet. Cook at 300 oC until golden and crispy.

Combine all salad ingredients and add roasted sweet potatoes.

Mix the dressing ingredients and toppings.

Enjoy it.

Take a nice photo.

Tag me in your story to see it.
If you try this recipe and fall in love with it, don´t forget to tag us on Instagram, Facebook, or TikTok.
References
Chambers, L. (2020). 28-Day Hormonal Balance Reset Plan So fresh, so green.
Gottfried, S. (2015) The Hormone Reset Diet, HarperCollins e-books
Greco, S., Pellegrino, P., Zannotti, A., Delli-Carpini, G., Ciavattini, A., Reis, F.M., and Ciarmela, P. (2021). Phytoprogestins: Unexplored Food Compounds with Potential Preventive and Therapeutic Effects in Female Diseases Nutrients: 13(12).  doi: 10.3390/nu13124326